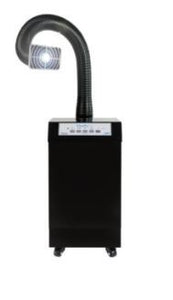 HA Source Capture Unit-Single Inlet with Outside Vent
Regular price $1,917.49 Sale
The Healthy Air® Source Capture System Removes Salon Fumes and Chemical Vapors, Collects Nail Dust and Microscopic Debris, and Captures and Kills Airborne Microorganisms in a patented 3-stage filtration process.

• 3 speed high flow fan
• Meets IMC ventilation requirements for nail salons
• Meets OSHA requirements
• Quiet operation noice (dB) at 6 ft. (Setting: High/56 Medium/52 Low/51)
• Includes notification for filter change


Cabinet Dimensions: 14" x 12" x 23"
Capture hose length extends 45"
Weight: 37 lbs.

Estimated lead time - 6-10 Weeks. Extended lead times are the result of ongoing industry-wide supply chain issues.                                                                                         
Due to ongoing production constraints and component scarcity, item prices are only approximations within a few percentage points and are not guaranteed. Please contact PS directly for exact pricing.
*PS Design & Procurement is aware that some states are subject to the International Mechanical Code regulations specific to nail services. These codes could potentially affect building ventilation infrastructure and equipment specific features. It is suggested that you confirm your state and local building codes regarding ventilation requirements. Consult with project's MEP specialists for hookup to HVAC.