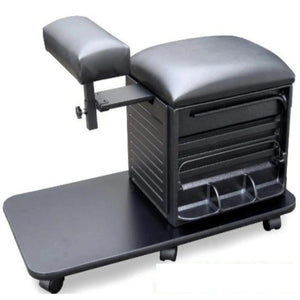 Pedi Tech Cart for Portable Footspa
Regular price $260.00 Sale
*This item is still available, but be aware that the Footsie Bath is currently SOLD OUT*
Black only. Professional Pedicure unit featuring: Padded vinyl Seat, adjustable padded Foot Rest (Horizontal/Vertical), 2 assorted trays (2, 4 or no dividers), Roll-up door and 2 side pockets with tip-preventing dividers and wire support for additional product storage. 
Overall Dimensions: 16 wide x 32 deep x 18 high, Weight: 33.6 lbs. 
Use with Footsie Bath.
Estimated lead time -3-6 Week. Extended lead times are the result of ongoing industry-wide supply chain issues.
Due to ongoing production constraints and component scarcity, item prices are only approximations within a few percentage points and are not guaranteed. Please contact PS directly for most current pricing.